Perfectly resistant to corrosion, the blade consists of Nitrox®, the cutting edge of which is mixed smooth + clamps. The CAC® S200 also has a windowbreaker and a reversible belt clip. It is a true concentrate of all the advanced technologies that one would expect from an operational knife. Tarrerias-Bonjean collaborated with Philippe PEROTTI, former special forces and expert in the handling of firearms and knives, to create this exceptional knife. His recognized experience has maximized the effectiveness of the knife's use in making the CAC® S200 the ideal companion for our soldiers in the various theaters of operations. Without a doubt, it will be the perfect companion for your outdoor activities. TB Outdoor also wanted to collaborate with the American company Benchmade® to integrate the Axis lock® locking mechanism into the CAC® S200. This mechanism is extremely resistant and ensures flawless blade locking in the open position. The handle consists of two "Toxified" plates machined from G10. At the end of the sleeve, a curved and interchangeable blade is designed to cut thick straps, ropes and seat belts to facilitate extraction in the event of an accident.
The CAC® was officially selected in the face of many competing products, for its performance, its quality and its price by the French army in 2017. Its dissemination in the various army corps began in early 2018 and will largely equip our soldiers at least until 2022.
The folding blade made of Nitrox®
Smooth blade with partial tightening
Axis Lock® lock
Has a window breaker and a reversible belt clip
Strap cutter with interchangeable blade
Handle in toxic G10
Total length: 238 mm
Blade length: 95 mm
Blade thickness: 3 mm
Weight: 195g
Made in France, in Thiers
Free sale over 18 years only
* Directly derived from CAC®, the S200 is the third iteration of the "Country Knife" that Tarrerias-Bonjean designs and manufactures for the French army. Its design is preserved and the mechanics, the blade and all the main organs are common.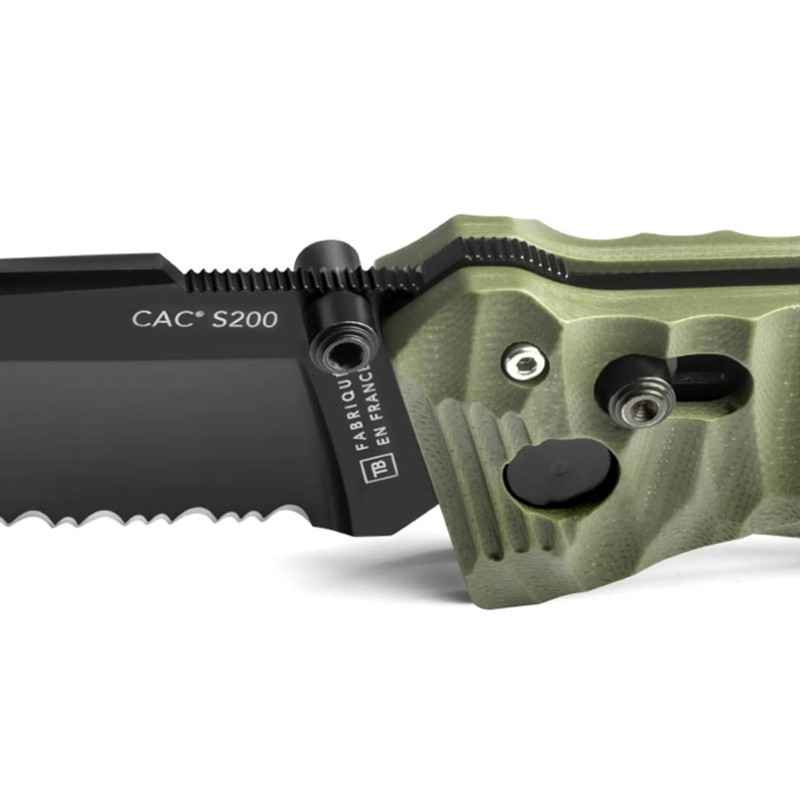 What is the G10?
G10 consists of fiberglass which is dipped in resin. After compression and hardening by cooking of this mixture, the G10 is a light, durable and robust material. Outdoor and survival knives often offer G10 handles because of these characteristics.
G10 is a very resistant material and not very sensitive to water, cold, heat, decay or corrosion.