Now going green in Airsoft, no longer means wearing camouflage. The New Environment Friendly Airsoft BB for Pro Games. Finally you can go green while maintaining accuracy and consistency in your Airsoft gun. Manufactured to exact dimensions within a +/-0.01mm tolerance. This environment friendly BB will shoot tight groups at long distances. Nontoxic and safe for people and environment tested according to EU and US regulations. The BB's contain PLA, a thermoplastic polyester derived from renewable resources, such as corn starch, or sugarcanes. PLA biodegrades in the presence of primarily moisture and oxygen.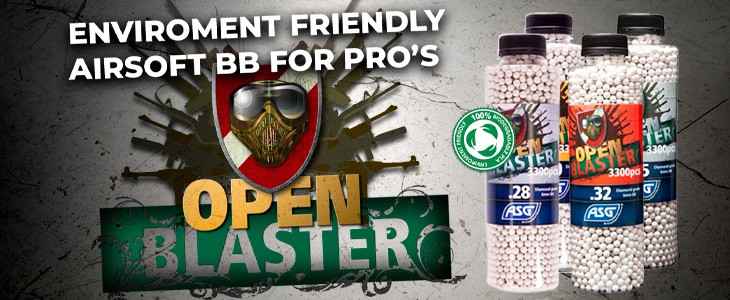 BIO BBs, Our view and some home truths
Many airsoft players and target shooters will debate at length the merits and failings of 'bio' BBs. Some hate them, some see them as the future. The question remains though for many 'Can you actually make a Bio BB that still has great performance?'
At ActionSportGames we're not sure that you CAN make a truly 'bio' BB that is actually any good, but we do think that you can make a premium BB that will create less of an impact on the environment.
For that reason, we produce and distribute our Open Blaster range of high quality premium BBs that we believe are environmentally friendly and the 'green' alternative to traditional plastic BBs – but are they bio degradable?
Is Open Blaster Bio Degradable?
Obviously, this is a very sensitive topic and more relevant in the current day and age than ever before. We all have a responsibility to take care of our environment and preserve nature and the world to come for future generations , More and more people are starting to become more aware of this and so are we at ASG.
Every year, literally tons of airsoft BBs are being fired at games and ranges, and most of these end up in the ground. Let's imagine that at an airsoft site each player used one bottle of .20g BBs a day, there are 100 players on site each day and the site runs four games a month. That one site alone is putting 2880 kg (or almost three tons) of plastic into the ground a year!
Therefore, it is very relevant to understand the impact this can have on the environment. Many providers of airsoft products advertise, indicate or imply that their BBs are "BIO" degradable, but what does that mean and exactly how degradable is the material content?
No supplier of airsoft BBs at present actually has a truly 100% biodegradable BB product which can ALSO keep its tolerances. Unfortunately, it is the case that many providers allow themselves to communicate something that is only partially correct. Some offer BBs containing PLA which is a biodegradable material such as our Open Blaster. The entire BB content, however, is unfortunately not exclusively made of PLA and therefore one can reportedly not guarantee that the BB is 100% biodegradable. For this exact reason at ASG have the following text/statement on the Open Blaster label: "Contains 100% bio-degradable PLA", we do not communicate that our Open Blaster is a "BIO" BB precisely because we do not want to manipulate users into believing that they are investing in a BB that decomposes 100%.

So, what is PLA?
PLA is an abbreviation for PolyLacticAcid or Polylactic Acid. PLA is a so-called 'bioplastic', i.e., a plastic material based on plants such as corn starch, wheat, or sugar cane. PLA is expected to deform and degrade at 60 degrees Celsius which makes the material approved as degradable as it is affected by much lower temperature than other plastic materials. It can be debated, however, whether it is actually degradable because the ideal conditions for it to degrade requires an environment of 60 degrees Celsius and a controlled humidity level. These circumstances occur very rarely in the natural world which is why it is debatable whether PLA can be categorised as biodegradable.
Bioplastics and biodegradable plastics are unfortunately not an easy solution to problems with plastic waste in the soil and in our seas.

It is a common assumption that biodegradable plastic is the solution to the problem of plastic waste because the plastic decomposes into water and CO2. But biodegrading this plastic requires a controlled environment we mentioned earlier, i.e. control of humidity and temperature and the presence of microorganisms – conditions that can only be really controlled in industrial plants.
Under the right conditions, biodegradable plastics will be degraded to water, CO2 and biomass in 60 days. If a biodegradable plastic component is simply thrown into nature, it will take several years before it decomposes.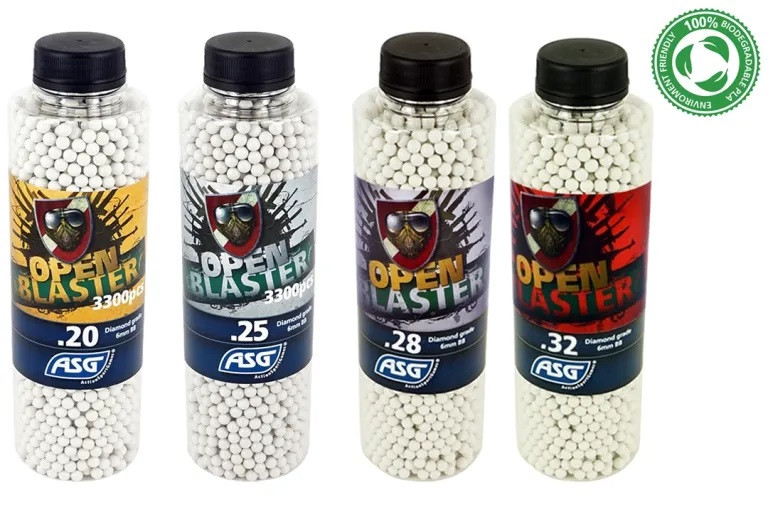 If they don't disappear quickly when they are in the ground naturally, why use PLA?
The advantage of using PLA is that it is nontoxic to the environment and therefore one can discuss the importance of the degradation itself.
BBs with PLA on the market typically contain 50-70% PLA where the rest of the content is either made of other plastic or Barium Sulphate (Open Blaster contains Barium Sulphate). This mixture is necessary to create the hardness of the ball, the cohesive force of the material and to maintain tolerances / dimensions. This is the main reason why it is so difficult to develop an airsoft BB that is 100% degradable. ASG managed at one point to develop a 100% biodegradable BB which we introduced to the market, but this was unfortunately not a success as we experienced that the BBs would grow in size in humid conditions or when wet. Therefore, other chemical materials are used to make the product resistant enough to various weather conditions and environments. The intention is to be able to supply a BB with a guarantee that the tolerances do not change, and this is unfortunately not possible to manufacture if the BB only consists of corn starch. Barium Sulphate is 'inert' and not defined as dangerous or harmful to the environment but it can potentially be damaging to your health if consumed in large amounts – given we don't expect any one to make a meal of our BBs it's a risk worth taking!
Despite all the above, and joking aside, it is of course not 100% optimal that such large amounts of "non-degradable" or "difficult-to-degrade" material enter nature because we do not really know whether this affects wildlife or otherwise.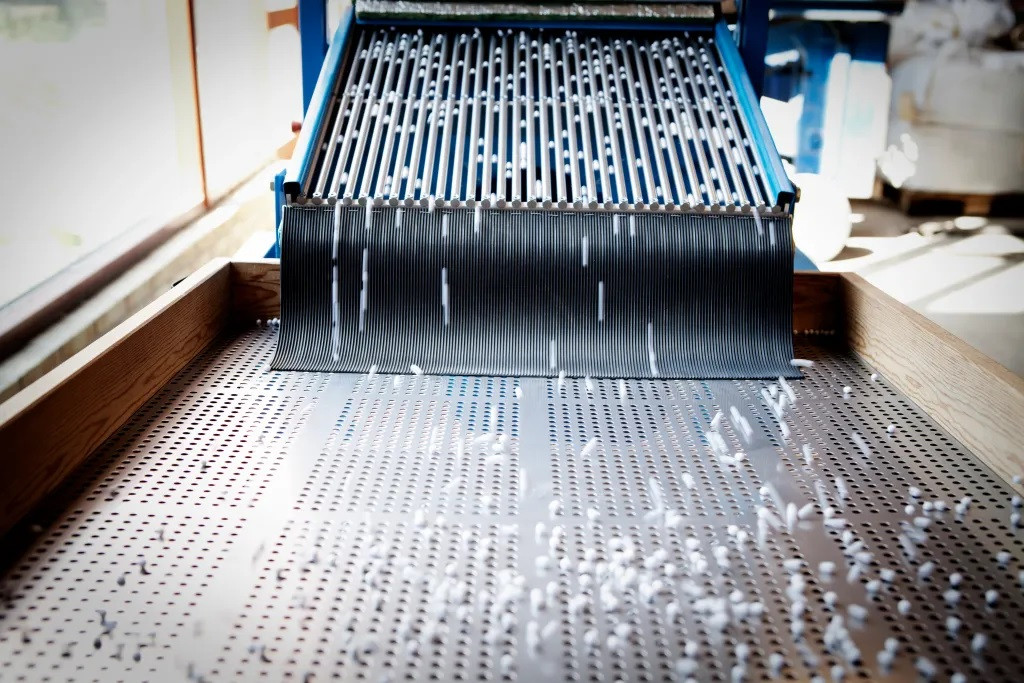 What does the future hold?
Unfortunately , ASG (or for that matter other suppliers) are not yet ready with a final 100% truly biodegradable BB. At present, we feel the best product you can invest in is our Open Blaster where we are entirely honest with its composition. Each BB contains exactly what we report, i.e., PLA which is partial content with 'weight' differences made by added Barium Sulphate. Open Blaster is recommended by us as the best alternative to other BBs that either partially contain PLA or do not contain PLA at all. At ASG we prefer to use Barium Sulphate to add mass to different weights of BB rather than metal powders as we feel the inert nature of Barium Sulphate is better for the environment and less harmful to any wildlife if accidentally ingested.
While we can't make a truly 100 per cent 'green' BB at present we're trying to move in the right direction of minimising eco impact by bottling all of our BBs in 100 per cent recyclable packaging and offering BBs in 'bulk bags' to allow site operators and stores to recycle existing bottles 'on site'.
At ActionSportGames we are constantly working to improve ourselves as a company, both by developing more eco-friendly working practices and by developing our products in an effort to be a market leader in innovation and progress, therefore we are also working hard to be able to one day offer a BB that we can guarantee to be 100% biodegradable.