More info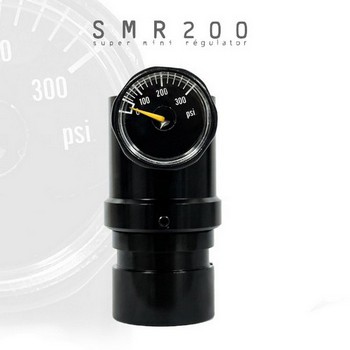 The SMR200 - Super Mini regulator - is Very light with a weight of 120gr only, it is compatible with SLP and high pressure tanks. If you plan to play under 140 PSI, keep the original spring already installed.
Entry pressure : 200 - 1500 PSI, SLP compatible
High refresh rate
Output pressure 40 - 140 PSI with pre-installed spring
Output pressure 80 - 210 PSI with additional spring delivered
Entry thread : ASA
Output thread : 1/8 NPT female X 1
The pressure adjustment screw can be blocked by installing a collar
Weight : 120gr
Included in the package :
SMR200 Regulator
Additional high pressure spring 80-210 PSI
Pressure adjustement HEX key
Please note the regulator does not include any male or female connector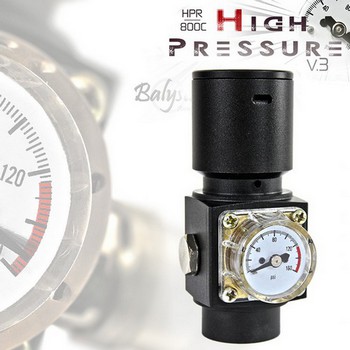 The HPR800C is a very strong regulator, the output pressure can be adjusted instantly up and down using the special square key (delivered). It also have 2 X 1/8 NPT output threads to connect a second line.
Entry pressure : 800 - 1500 PSI
Output pressure : 40 - 160 PSI
Large jauge
Aluminium made
Easy pressure adjustement
Entry thread : ASA
Output thread : 1/8 NPT female X 2
Comes with an Integrated tournament lock system
Weight : 320gr
Included in the package :
HPR800C Regulator
Pressure adjustement key
Tournament Lock Aluminium cap
Please note the regulator does not include any male or female connector