More info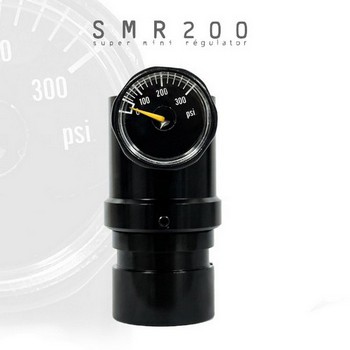 The SMR200 - Super Mini regulator - is Very light with a weight of 120gr only, it is compatible with SLP and high pressure tanks. If you plan to play under 140 PSI, keep the original spring already installed.
Entry pressure : 200 - 1500 PSI, SLP compatible
High refresh rate
Output pressure 40 - 140 PSI with pre-installed spring
Output pressure 80 - 210 PSI with additional spring delivered
Entry thread : ASA
Output thread : 1/8 NPT female X 1
The pressure adjustment screw can be blocked by installing a collar
Weight : 120gr
Included in the package :
SMR200 Regulator
Additional high pressure spring 80-210 PSI
Pressure adjustement HEX key
Please note the regulator does not include any male or female connector
Important note regarding the SMR200 :
When using your regulator for the first time, please make sure that the pressure adjustment screw is at the minimum when screwing onto the bottle. Then you can adjust this screw by very slowly turning the adjustment key until you obtain the desired pressure.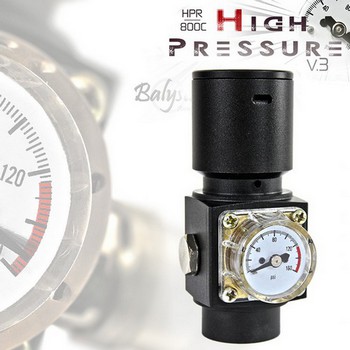 The HPR800C is a very strong regulator, the output pressure can be adjusted instantly up and down using the special square key (delivered). It also have 2 X 1/8 NPT output threads to connect a second line.
Entry pressure : 800 - 1500 PSI
Output pressure : 40 - 160 PSI
Large jauge
Aluminium made
Easy pressure adjustement
Entry thread : ASA
Output thread : 1/8 NPT female X 2
Comes with an Integrated tournament lock system
Weight : 320gr
Included in the package :
HPR800C Regulator
Pressure adjustement key
Tournament Lock Aluminium cap
Please note the regulator does not include any male or female connector